Recent Announcements
Subscribe to posts
https://www.hrw.org/news/2016/04/25/us-20-years-immigrant-abuses
Here is a link to an article published by Human Rights Watch about illegal immigration in the United States and how we as a people have dealt with it. The real tension between being a nation of immigrants and a country that values the rule of law arises when our laws do not reflect what we believe (or at least claim) to be our values as a people.    photo 
© 2015 Reuters
http://www.immigrationblog.us/2016/03/new-hampshire-manchester-field-office.html
Sure it might seem a little odd that the Manchester Field Office of USCIS is not in Manchester, NH but is actually in Bedford (
9 Ridgewood Road 
Bedford, NH 03110)
. For those who find this confusing,it is not without precedent. My golfing friends might know that Manchester Country Club is also in Bedford.
At any rate, above is a link to my immigration blog with info on them and another link to their web page.
DHS Announces 18-Month Redesignation and Extension of Temporary Protected Status for South Sudan
Release Date: January 25, 2016
WASHINGTON—Secretary of Homeland Security Jeh Johnson has redesignated South Sudan for Temporary Protected Status (TPS) and extended the existing TPS designation for that country from May 3, 2016, through November 2, 2017, due to the ongoing armed conflict and extraordinary and temporary conditions in South Sudan that prevent its nationals from safely returning. These actions will allow eligible nationals of South Sudan (or persons without nationality who last habitually resided in South Sudan) to register or re-register for TPS in accordance with the notice published today in the Federal Register.
Who Is Eligible

Current TPS Status

When to File

Current TPS beneficiaries from South Sudan

Have TPS

To extend your TPS, you must re-register during a 60-day re-registration period that runs from January 25, 2016, through March 25, 2016.

South Sudanese nationals and persons without nationality who last habitually resided in South Sudan, who have:

Continuously resided in the United States since January 25, 2016, and
Been continuously physically present in the United States since May 3, 2016.

Do Not Have TPS

To obtain TPS, you may apply for TPS during a 180-day initial registration period that runs from January 25, 2016, through July 25, 2016




.http://www.uscis.gov/news/dhs-announces-18-month-redesignation-and-extension-temporary-protected-status-south-sudan
There are rumors of ICE immigration raids coming up next month. Maybe it's true maybe not -- still it never hurts to know your rights and be prepared. Here is a link to a handy booklet created for the National Immigration Project.
I posted this on my blog  "NH Immigration Lawyer Blog"
http://www.immigrationlawyernh.com/2015/11/in-country-refugeeparole-program-for.html
 but I will reprint it here because I think it is important for parents of children still in El Slavador, Guatemala, and Honduras to learn about this.
U.S. DEPARTMENT OF STATE and U.S. DEPARTMENT OF HOMELAND SECURITY
The United States is establishing an in-country refugee/parole program in El Salvador, Guatemala, and Honduras to provide a safe, legal, and orderly alternative to the dangerous journey that some children are currently undertaking to the United States. This program will allow certain parents who are lawfully present in the United States to request access to the U.S. Refugee Admissions Program for their children still in one of these three countries. Children who are found ineligible for refugee admission but still at risk of harm may be considered for parole on a case-by-case basis. The refugee/parole program will not be a pathway for undocumented parents to bring their children to the United States, but instead, the program will provide certain vulnerable, at-risk children an opportunity to be reunited with parents lawfully resident in the United States.
Applications for this program are initiated in the United States. Beginning in December 2014, a parent lawfully present in the United States will be able to file Department of State form DS-7699 requesting a refugee resettlement interview for unmarried children under 21 in El Salvador, Guatemala, or Honduras. Under certain circumstances, if the second parent resides with the child in the home country and is currently married to the lawfully present parent in the United States, the second parent may be added to the child's petition and considered for refugee status, and if denied refugee status, for parole. Form DS-7699 must be filed with the assistance of a designated resettlement agency that works with the U.S. Department of State's Bureau of Population, Refugees, and Migration to help resettle refugees in the United States. The form will not be available on the Department of State website to the general public and cannot be completed without the assistance of a Department of State-funded resettlement agency. These resettlement agencies are located in more than 180 communities throughout the United States. When the program is launched, the Department of State will provide information on how to contact one of these agencies to initiate an application.
Once a form DS-7699 has been filed, the child in his/her home country will be assisted through the program by the International Organization for Migration (IOM), which manages the U.S. Resettlement Support Center (RSC) in Latin America. IOM personnel from the RSC will contact each child directly and in the order in which the forms filed by lawfully present parents have been received by the U.S. Department of State. IOM will invite the children to attend pre-screening interviews in their country of origin in order to prepare them for a refugee interview with the Department of Homeland Security (DHS). DNA relationship testing will be required to confirm the biological relationship between the parent in the United States and the in-country child. After the IOM pre-screening interview but before the DHS interview, the lawfully present parent in the United States will be notified by IOM via the resettlement agency about how to submit DNA evidence of the relationship with their claimed child(ren) in El Salvador, Guatemala, or Honduras. If DNA relationship testing confirms the claimed relationship(s), IOM will schedule the DHS refugee interview.
DHS will conduct interviews with each child to determine whether he or she is eligible for refugee status and admissible to the United States. All applicants must complete all required security checks and obtain a medical clearance before they are approved to travel as a refugee to the United States. IOM will arrange travel for the refugee(s) to the United States. The parent of the child will sign a promissory note agreeing to repay the cost of travel to the United States. Approved refugees will be eligible for the same support provided to all refugees resettled in the United States, including assignment to a resettlement agency that will assist with reception and placement, and assistance registering children in school.
Applicants found by DHS to be ineligible for refugee status in the United States will be considered on a case-by-case basis for parole, which is a mechanism to allow someone who is otherwise inadmissible to come to the United States for urgent humanitarian reasons or significant public benefit. An individual considered for parole may be eligible for parole if DHS finds that the individual is at risk of harm, he/she clears all background vetting, there is no serious derogatory information, and someone has committed to financially support the individual while he/she is in the United States. Those children and any eligible parent considered for parole will be responsible for obtaining and paying for a medical clearance. An individual authorized parole will not be eligible for a travel loan but must book and pay for the flight to the United States. Parole is temporary and does not confer any permanent legal immigration status or path to permanent legal immigration status in the United States. Parolees are not eligible for medical and other benefits upon arrival in the United States, but are eligible to attend school and/or apply for employment authorization. Individuals authorized parole under this program generally will be authorized parole for an initial period of two years and may request renewal.
It is anticipated that a relatively small number of children from Central America will be admitted to the United States as refugees in FY 2015, given the anticipated December launch and the length of time it takes to be processed for U.S. refugee admission. Any child or parent admitted as a refugee will be included in the Latin America/Caribbean regional allocation of the U.S. Refugee Admissions Program, which is 4,000 for FY 2015. If needed, there is some flexibility within the U.S. Refugee Admissions Program to accommodate a higher than anticipated number from Latin America in FY 2015.
Designated Resettlement Agency in NH
Ascentria Community Services, Inc.
Address: 261 Sheep Davis Road, Suite A-1
Concord, NH 03301
Phone: 

603-224-8111

 Fax:

603-224-5473

 
The deadline for eligible nationals of Nepal (and people without nationality who last habitually resided in Nepal) to register for Temporary Protected Status (TPS) is Monday, Dec. 21, 2015. This deadline marks the end of the 180-day initial registration period. The TPS designation for Nepal runs from June 24, 2015, through Dec. 24, 2016.
Eligibility
To be eligible for TPS, you must demonstrate that you meet all eligibility criteria, including that you have been both "continuously physically present" and "continuously residing" in the U.S. since June 24, 2015. You must also undergo thorough security checks. Individuals with certain criminal records or who pose a threat to national security are not eligible for TPS.
Registering
To register for TPS, you must submit:
The Form I-821 application fee (or a fee-waiver request);
The biometric services fee (or a fee-waiver request) if you are 14 years of age or older;
Form I-765, Application for Employment Authorization, regardless of whether you want an Employment Authorization Document (EAD); and
The Form I-765 application fee (or a fee-waiver request), but only if you want an EAD. If you do not want an EAD, no application fee is required. There is no Form I-765 fee for initial applicants under the age of 14 or over 65; these applicants may receive their initial EAD cards for free.
Fees and Fee Waivers
If you cannot pay the fee, you may request that we waive the Form I-821 application fee, Form I-765 application fee, or biometric services fee by filing Form I-912, Request for Fee Waiver, or submitting a written request. You must also submit supporting documentation with your fee-waiver request. We will reject your TPS application if you do not submit the required filing fees or a properly documented fee-waiver request.
Additional Information
For more information about the designation of Nepal for TPS—including guidance on eligibility, the application process and where to file—visit uscis.gov/tps, the Nepal TPS page or the Federal Register notice.
This Web alert is also available in Nepali.
Interesting article on whether DAPA and Extended DACA can be saved by the US Supreme Court. Here is an excerpt from AIC Immigration Impact: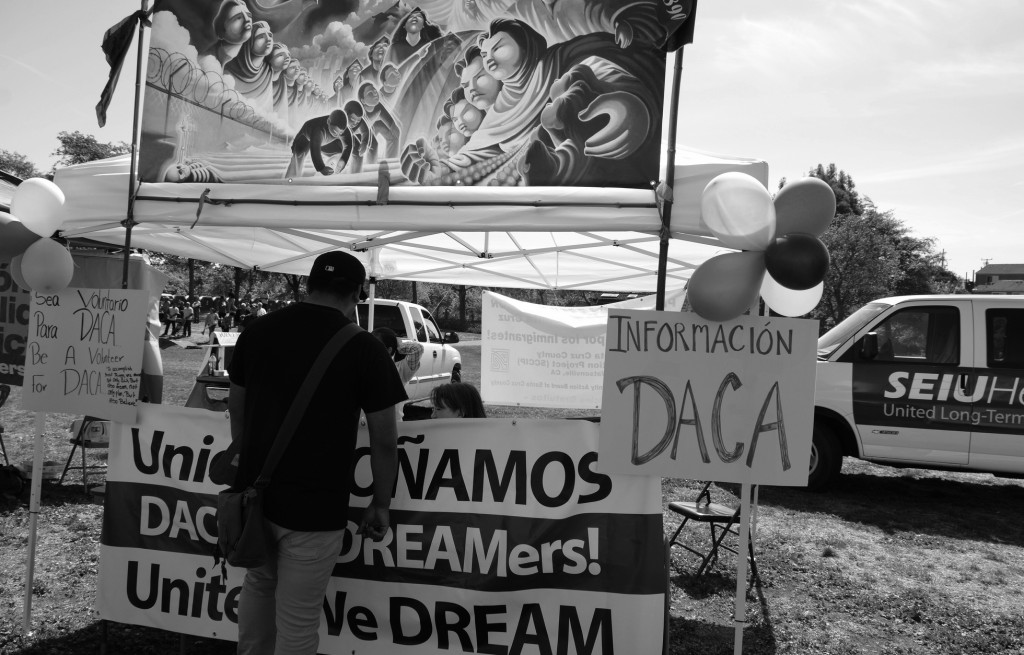 "
But yesterday's decision is not all bad news. What was hailed as a "win" for Texas and the 25 states challenging the federal immigration policies actually signals an important and hopeful turning point in the case. Most significantly, the decision has cleared the way for the Obama Administration to take this case to the U.S. Supreme Court. And today, the White House announced that it will take aggressive steps to seek Supreme Court review. Prompt action means that the Supreme Court could hear the case this term—likely with oral arguments being held next spring—and issue a decision before the term ends in June 2016. If that happens, it would be possible for the immigration agencies to implement DAPA and expanded DACA before the current Administration leaves office". - See more at: http://immigrationimpact.com/2015/11/10/fifth-circuit-immigration/#sthash.17QmBFGI.dpuf
New White House Campaign Will Encourage Legal Immigrants to Become Citizens
White House officials announced the start of a nationwide campaign on Thursday to encourage legal immigrants to become American citizens, 

which could add millions of voters to the electorate in time for the presidential election next year. With about 8.8 million legal residents in the country who are eligible to become citizens, White House officials said they were trying to make it easier to complete the final steps to citizenship. The United States Citizenship and Immigration Services, the federal agency in charge of naturalizations, will offer practice tests on cellphones for the civics exam that immigrants must pass, but which many find daunting, and will hold preparatory workshops in rural areas. Applicants will also be able to pay the fee — still a hefty $680 — with a credit card.
http://www.nytimes.com/2015/09/18/us/white-house-campaign-legal-immigrants-citizenship.html?smid=fb-nytimes&smtyp=cur&_r=0